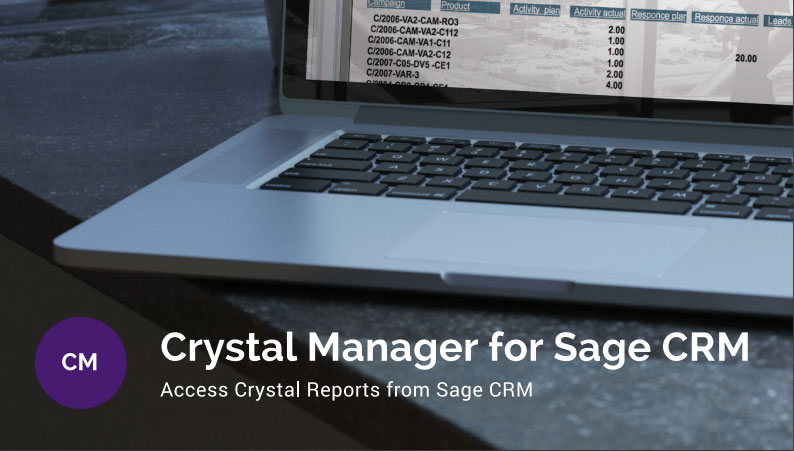 Crystal Reports For Sage CRM
Looking to access custom reports and forms directly form Sage CRM? Crystal Reports for Sage CRM allows you to do that.
Sage CRM's reporting engine and dashboarding features can be very powerful. However, some projects require very specific reports or forms that go beyond the ability of Sage CRM's default reporting and document creation functions. Enter Crystal Manager for Sage CRM.
Crystal Manager is a third party utility that works in conjunction with Crystal Reports to create the documents you need for projects. While the reports may be complex, the ability to launch and format these reports is simple.
Crystal Manager Features:
Control Report Access
One Click Reports
Export data in various formats
Integrate with Custom Entities
Track Report Access
Access any customer data without the need for a complex integration
Provide ERP and Accounting reports from CRM
A few benefits of Crystal Reports for Sage CRM.
1. You can make the form look however you'd like. You are not stuck with Sage CRM's default formats. Running reports can be fast, have a professional appearance, and is easy to use. Reports can include your logo and colours enhancing how your business is perceived.
2. You can utilize data from various sources including customizations to CRM, data from accounting, and access to ERP.
3. Easy to launch from anywhere within CRM. Forms and reports can launch with a single click. Or, you can allow the user to enter filtering criteria. One click reports can be added to screens to open a report without any user prompting. Its a great way to generate quotes, orders, or invoices that look fantastic.
Launching reports and forms from CRM is practical and can be a great component of a CRM strategy. Open the door to your customer data by making custom data accessible and making ERP reports available from CRM.
Managing Sage CRM projects is the exclusive focus of DCAA.  This singular focus over the past 12+ years gives us a unique and experienced perspective. We're happy to help with any questions you may have.  Contact us today!