Sage CRM: Frequently Asked Questions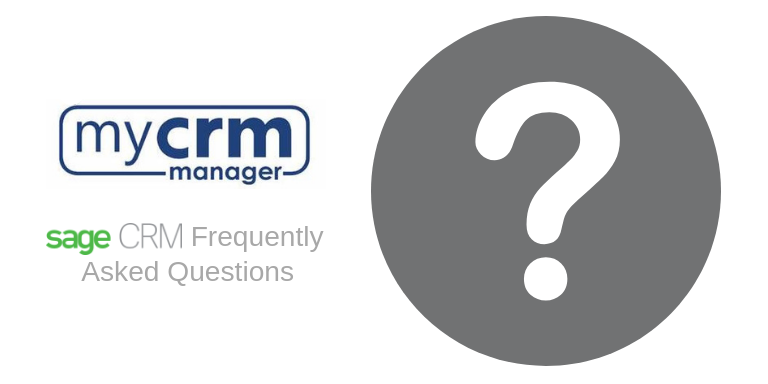 We often receive similar Frequently Asked Questions from business owners who are interested in growing their operations with Sage CRM. This section provides answers to frequently asked questions as well as the most common topics and more.
What is Sage CRM?
Sage CRM is a comprehensive customer relationship management platform that provides your organizations with metrics and insights that support the growth of your operations. With Sage, you have the opportunity to better understand your customer while discovering new insights that enable you to make smart decisions with marketing and communications. For more information check out this video.
Why is Sage CRM different?
Sage CRM is a full function communication system that is different than other top CRM applications. Sage CRM is a web-based application but physically installed on servers that the client owns or controls, which allows them to customize their platform to cater to the needs of their business. Additionally, the Sage platform can be easily integrated with other databases or applications and used to manage non-typical CRM information. With a number of collaboration tools, users can perform tasks together across different teams and departments, which prevents duplicate work as well as increases productivity and efficiencies. For more information check out this video.
What are Sage CRM strengths?
The single best feature of Sage CRM is the flexibility and integration of their workflow engine. With workflows, you are able to configure the software to manage and enforce the unique requirements of any given department or process. The ability to customize your workflows gives you the necessary tools to have a successful CRM strategy. A few other notable features include CRM/marketing automation, sales force automation, project management, budget, planning, and forecasting tools. For more information check out this video.
What are Sage CRM's weaknesses?
While there are a few great add-ons for Sage CRM, due to the nature of the open architecture, and how Sage CRM developers can do almost anything, there really isn't a solid marketplace for add-ons they way there is for SFDC.  Due to this, finding pre-built solutions (for example out-of-the-box integration with certain web-marketing applications) is not always possible.
How much does it cost?
Sage CRM operates on a per-user basis and requires professional services to set up properly:
5 to 8 users: $10,000 – $16,000
8 to 12 users: $14,000 – $25,000
12 to 20 users: $20,000 – $30,000
20+ users: $30,000 – $40,000
It is important to note that you cannot just turn on Sage and start using it the first day. The platform requires professional service in order to be deployed properly and everyone involved must receive adequate training. Planning and training are crucial to have a successful CRM system. Deployment is typically rolled out over a 60 to 120-day period.
Why is investing in Sage CRM smart?
Sage CRM is a top tier CRM application that routinely wins the 'value award' in the CRM industry when comparing functionality against price.  
What is the future of Sage CRM?
Globally, there are 17,000 companies that use Sage CRM.  So, Sage CRM has definitely achieved critical mass and has a secure future. At this stage, the market for Sage CRM is very stable.  Definitely, we have seen well-advertised competitors go out of business over the past 5 years but… not many new entrants into the CRM space.   I (Dan) fully expect the majority of our current clients to be working with us and using an evolved version of Sage CRM effectively 10-years from now.
---
For over 15 years, My CRM Manager has helped countless businesses deploy their Sage system by providing a methodical, proven approach. Their experienced perspective allows them to design customized strategies that cater to your unique situation. For more information about how My CRM Manager can help your business stay ahead of the competition, contact My CRM Manager and schedule a consultation today.