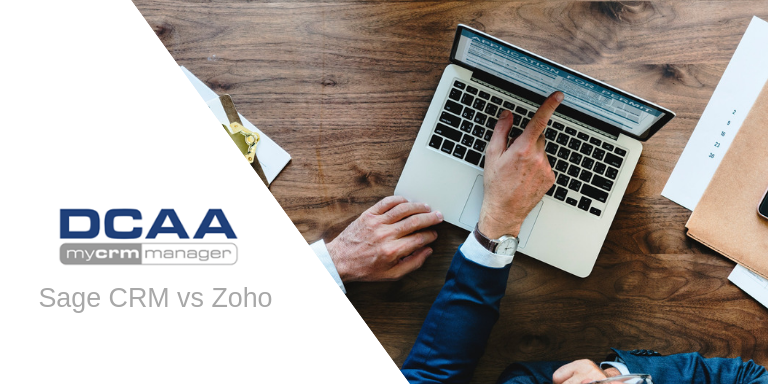 Sage CRM vs Zoho (October 2018)
When deciding between Sage CRM and Zoho, many customers have chosen Sage CRM for various different reasons.  Zoho is a modern, simplified CRM solution that is popular among small businesses. However, when customers chose Sage CRM over Zoho it is due to the key differentiators listed below.
Pricing:  First, Zoho boasts a free program for users. However, once customers exceed 3 users, a steep pricing tier is implemented. Sage offers a tier-free plan that allows per-user cost to remain the same regardless of a company's growth. So, while Zoho begins as a cheap option for small businesses, prices rise drastically as numbers rise. 
Hosting Method: Another major differentiator is hosting. This is where your CRM program will be hosted from. While some companies feel more comfortable with outsourcing their hosting to a provider, the ability to host your own CRM allows for flexibility and control. Of the leading CRM applications, Sage is the only CRM that allows clients to host on their own servers. Of course, if a client needs help hosting we are more than willing to step in and offer support.
That flexibility is Sage's key differentiator in the CRM industry.
As we see it, Sage's greatest differentiators are its workflow engine and integration with accounting. The workflow engine allows clients to build in processes for how they manage specific tasks; like Jobs or Opportunities.  With Sage CRM, companies can avoid common problems  associated to CRM's like Zoho- problems such as price spikes and low hosting flexibility. Sage's flexibility allows for software adaptations that cater to your programs, instead of the other way around.  
Regarding accounting, Sage CRM integrates directly with accounting systems such as Sage 50, Sage 100, Sage 300, and X3. Zoho integration requires that companies transfer sensitive data from the in-house system to an external source.
Sage vs Zoho CRM Overview
Deployment
Sage: Web-application that resides on servers you control.
Zoho: Web-application hosted by Zoho.
Flexibility:
Sage: Configuring Sage CRM to meet the unique requirements of a company happens with every Sage CRM project. With Sage, you can make the solution unique to your company.  There are many, many configuration options but Sage CRM also supports customizations done through common languages like ASP, VB.net or javascript.
Zoho: Creating new fields is simple, but the overall system is comparatively more complex. Customization requires knowledge of Zoho-specific scripting languages.
Pricing
Sage: Licensing is approximately $30 to $40/user/month. With Sage, there is no concept of tiered pricing.
Zoho: Has a variety of editions, ranging from $18 per user per month to $45 per user per month.
Integration and Accounting
Sage: Sage has built-in integration with the various Sage accounting solutions including Sage 50, Sage 100, Sage 300, and X3.
Zoho: While certain integrations with accounting exist, they are not available until the professional or enterprise tiers.
Interface
Sage: People comment that the way  Sage's platform looks makes it easier to understand.
Zoho: Complex, but does support a few more browsers based on each pricing tier.
Typical size
Sage CRM is applicable for systems between 8 and 150 users. The sweet spot seems to be between 10 and 20 users.
Zoho can be used by just 1 user and tends to be more popular with smaller organizations.