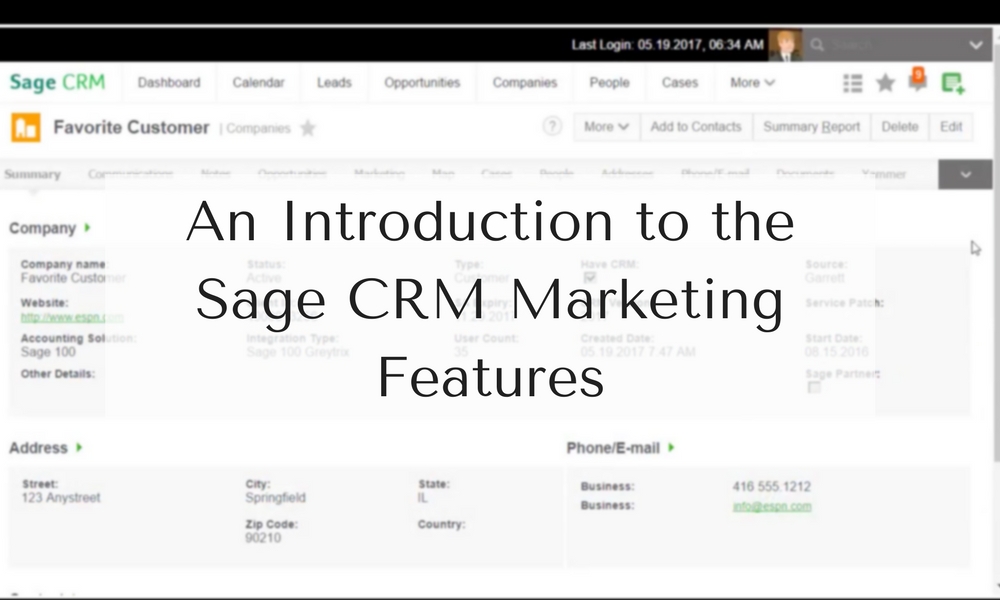 People often ask how Sage CRM can help them with their marketing efforts. While everyone has different needs when it comes to marketing their business, Sage CRM can help with a multitude of them. See how the Sage CRM marketing features can help you promote what you do.
Sage CRM Marketing Features
Sage CRM has a wide variety of marketing-related tools. With them, you can send out email marketing campaigns through either your own system or the MailChimp integration, and generate mail-merge templates. As the leads start coming in, you have the option to link them to which marketing campaigns brought them in. This way you'll be able to keep track of what's working and what's not. Knowing what's working can help you save money by spending less on the efforts that aren't producing as much opportunities. Sage CRM has a way for you to keep track of your company's marketing budget to help you keep track of those efforts.
If you have just started using the Sage CRM marketing features, we recommend not going too crazy with everything you can do. Start with just the basics and build on those. The basic features are fundamental in creating strong marketing campaigns.
Profiling Customers
In Sage CRM, you can profile companies and sort them based on their potential to turn into an opportunity. You can add as many fields as you feel necessary to accommodate all the information you want to include. So, go beyond just labeling them as company or prospect. Rank their potential so everyone knows what priority they are.
When you create fields, you can make them mandatory, if you so choose. Make fields like the source of this prospect mandatory to keep track of how you're finding good leads. You can also make whether or not a field is required dependant upon the value of another field.
The Sage CRM marketing features offer a lot of potential for your business. If you have any questions about how to use them to their full potential, give us a call today at 416.233.3188.
---
Managing Sage CRM projects is the exclusive focus of DCAA.  This singular focus over the past 12+ years gives us a unique and experienced perspective. We're happy to help with any questions you may have.  Contact us today!