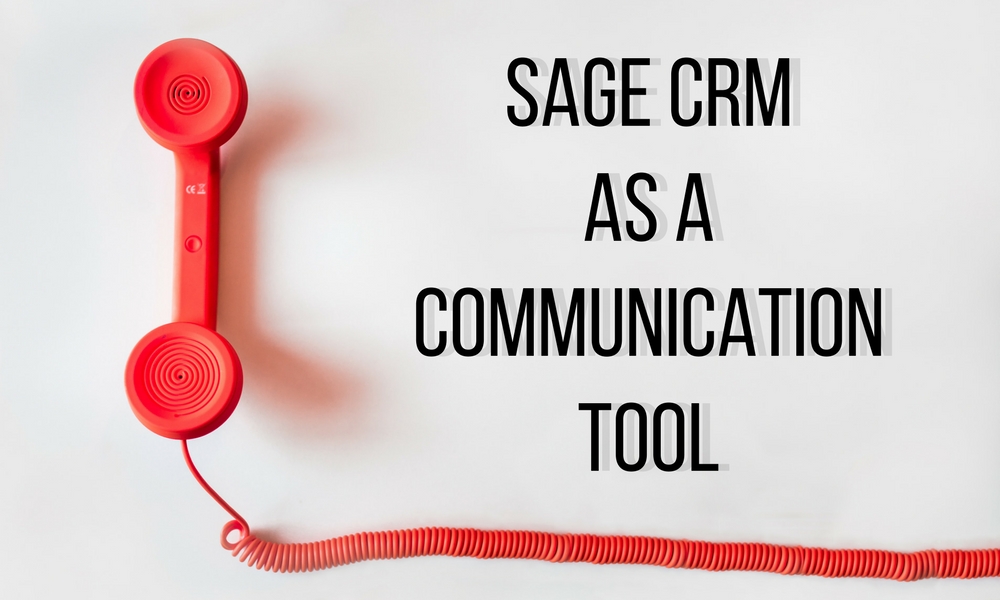 Every company is different and each has their own way of doing things. Something that can be said for each, though, is they all need a way to communicate across the different departments and levels. Using Sage CRM as a communication tool, it will be easy for staff to keep track of all of the messages and appointments that pass through each employee.
Sage CRM as a Communication Tool
Most communications get into Sage by being manually input by users. They can be found under the person they were created by, who they are co-associated with, and can then be linked to something else, such as a task. The person can enter the details of the communication, the due date, and the time it took place (or will take place). Reminders can be set for communications on screen or via email.
While most communication records are created manually, there are some features that can automatically generate them. For example, when you upload a document, it might create a record stating that a letter was sent.   OR automatic messages can be created in context of the workflow.
Communications will also have a status associated with them – pending or complete. And when you file the communication under a person, the record will always be there regardless of the status of the communication.
Viewing
When you choose to view the communications in "List" view, you will see all communication between your coworkers and the customers. You will see who created the communication, when and what type of communication it is, and if it's linked to a case. Here, you will also be able to set filters to find specific communications.
If you go to "Calendar" view, you will, by default, be able to see all of your pending activities. These are activities such as meetings and tasks. Also, if you have the rights to them, you can look at your coworkers' calendars to see their upcoming activities as well.
You can also view communications by clicking the downward arrow in the upper right corner. In the dropdown menu, click "Communication" and use the fields on that page to filter for the communication you wish to view.
Appointments and Tasks
Appointments and tasks can be viewed in "week" or "day" or "month" format, with appointments on the left and tasks on the right. Here, you can create tasks and appointments. When you create an appointment, it will set the time to 30 minutes by default, but you can make it longer or shorter, as needed. If you scroll down, you can see your availability and if you have any conflicts in your schedule. You can also invite coworkers to your appointment and see their availability as well. After you have finished creating the appointment, it will show up on the left and in the calendars of anyone added to it.
Creating a task is similar to creating an appointment, except you don't have to give a defined start and end time. Tasks are also only associated with one person and don't show if you have anything else in your calendar because it's not a defined time.
Emails
Email communication is much easier through Sage CRM too. When you're on a person's profile, click on "email" and an email to that person will open. You can also just click on an email address any time you see one while in Sage and the same thing will happen.
The email program within Sage is also practical for sending out emails that use templates, as it allows you to set up templates right in the program. Sage's email also sends out messages and records them and makes it easy for you to send messages to defined groups.
Do you have any questions about using Sage CRM as a communication tool? Let us know!
---
Managing Sage CRM projects is the exclusive focus of DCAA.  This singular focus over the past 12+ years gives us a unique and experienced perspective. We're happy to help with any questions you may have.  Contact us today!