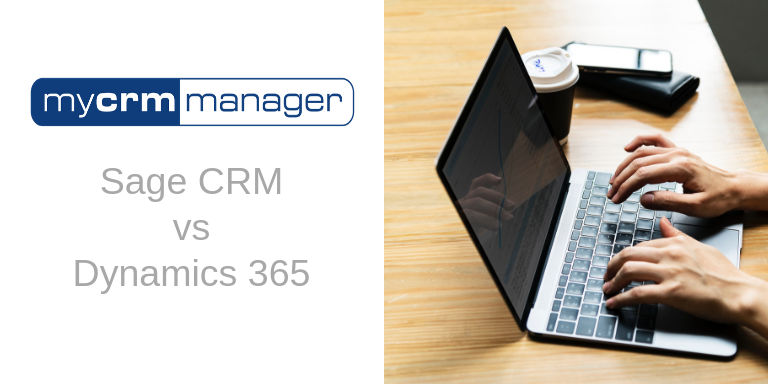 Sage CRM vs. Dynamics 365
If you're trying to decide between Sage CRM vs. Dynamics 365 for your CRM software solution this blog post is for you. We often evaluate the competitors in our industry because it's important to understand key differentiators between each platform.
For Sage CRM, it usually comes down to a few elements:
Affordability
Hosting
Flexibility
Workflows
Accounting
These benefits set us apart. So, they will be key factors in these comparison articles about sage crm vs. dynamics 365.
The Comparison of Sage CRM vs. Dynamics 365
1. AFFORDABILITY
Many favor tiered pricing models to entice users with deeper pockets to spend more on high-value features. It's not the path we choose at Sage CRM.
Sage: $30 to $40/user/month. There isn't a tiered pricing plan.  Sage CRM consistently wins the best 'total value awards' when ranking the top tier CRM systems in the mid-market.
Dynamics 365: $210/user/month, with the option to purchase individual licenses.
2. HOSTING
This often-overlooked topic is essential for security-minded users. At Sage CRM, we focus on companies who need to host and control their CRM on personal servers.  
Sage: It's a web app that lives on the servers your business  likely already has.  
Dynamics 365: Self-hosted solutions available for users at a specific pricing tier.
3. FLEXIBILITY
Each Sage CRM deployment has unique requirements and goals. That's why we make flexibility a priority with our platform. You can customize the solution and make it your own.
Sage: You can customize it for your specific needs using ASP, VB.net or javascript but, even for the less technically inclined, Sage CRM offers tons of configuration options.
Dynamics 365: It's built on the xRM framework, and offers a variety of customization options.
4. WORKFLOWS
CRMs benefit small businesses because of their ability to automate fundamental processes. Though it takes a methodical strategy to implement these rules, they can completely transform your business.
Sage: Automate the customer experience and rethink the way your company interacts with customers.  The flexibility of Sage CRM's workflow engine is truly incredible.
Dynamics 365: Can create automated processes using PowerApps.
5. ACCOUNTING
Syncing your accounting data with customer data provides a deeper insight into the lifecycle, operations, and health of your business.
Sage: It integrates with Sage accounting and business management solutions, including Sage 50, Sage 100, Sage 300, and X3.
Dynamics 365: Available through the Finance and Operations feature.
The Ultimate Benefit of Choosing Sage CRM
You know it's important to start investing in customer satisfaction, engagement, and retention. After a bit of research, it's clear you need to invest in a CRM. After a bit more research, you're coming to realize how much time it's going to take to start and manage.
If you're like most small business owners, you don't have the time to add another responsibility to your plate. And that's why we're here.
At My CRM Manager, managing Sage CRM has been our primary focus for 14+ years. As you can imagine, we've learned a thing or two in that time.
Dynamics 365 may work great for your business; we're not here to tell you what to do. However, if you're feeling stressed about managing this system, then you've come to the right place. We're the leading experts in Sage CRM project management and are happy to help you get started with the process.