Search All Articles:
[ivory-search id="7793″ title="Default Search Form"]
Read some of our articles below:
From the Sage CRM interface, users have access to tons of Sage 100 information and statistics that they might not otherwise have.  See the features listed below and in the 2-minute video provided.
See both customer and vendor records
View powerful statistics such as YTD and LYTD on the cover page of the customer record (in the Outlook interface too!)
View AR and OE entries past and present – including line item details
View a client's credit history
Review what a customer is buying this year versus last year
Create Orders within Sage CRM that, on approval, can flow into the Sage 100 OE module
Lookup Sage 100 inventory records
Remember, Sage CRM users do not require a license for Sage 100.  And all of the information is available through Sage CRM's web-accessible interface.
Demonstrations of the integration can be provided upon request.  You can find more information on the Sage CRM to Sage 100 integration on this page.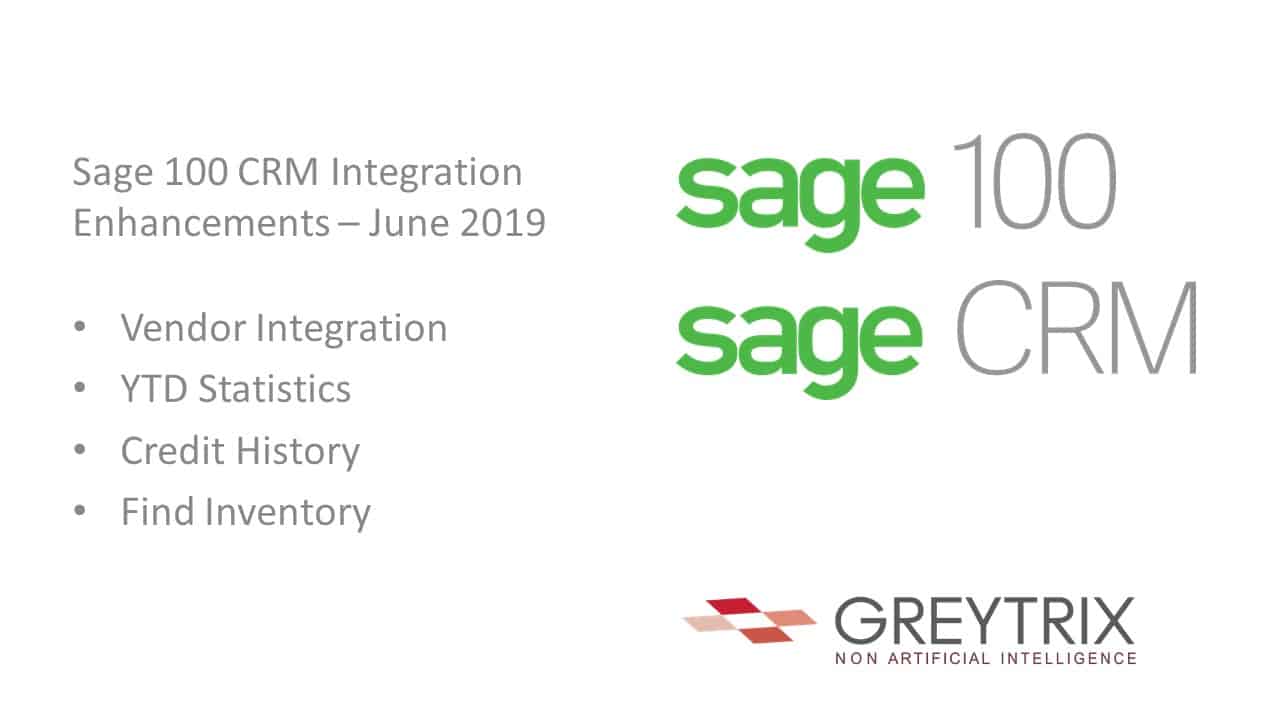 Greytrix integration between Sage 100 and Sage CRM has recently added a ton of new functionality. Read more.
Mobile access to Sage CRM – enhancements to MobileX
In June 2019, MobileX introduced new features, cementing its position as the best option to access Sage CRM from a smartphone. These new features include: (a) remembering your password, allowing for quicker, hassle-free access, and (b) allowing you take a picture of a business card and, from that picture, creating a Sage CRM record. The 60-second video below will walk you through these two features.
MobileX is a popular third-party solution for companies where mobility is very important. Click here to read more .

We often receive similar questions from business owners who are interested in growing their operations with Sage CRM. This section provides answers to frequently asked questions as well as the most common topics and more. Read more.

My CRM Manager can install Sage CRM on your network and integrate it with your Sage 100 system for a fixed fee of $1,500.  Seeing Sage CRM with your data and investigating the capacities of Sage CRM is a great way to seriously evaluate how your organization can benefit from using it. Read more.

Support for your Sage CRM software can come in various forms, so let's review the options… Read more.

As we enter 2019, we are pleased to announce that our recent partnership with Greytrix brings a brand-new Sage CRM hosted offering. Read more.

We have exciting news! After 15 years, DCAA, originally Dan Cousins & Associates, is proud to announce we are rebranding. Read more.

Sage CRM "One Stop Shop": Sage ERP integration experts Greytrix and leading Sage CRM Project Management team DCAA to combine efforts for Cloud CRM integration services across North America. Read more.

Are you interested in running your business more efficiently with time-saving accounting software? If so, Sage 50cloud is the right software for you. Sage 50cloud delivers best in class services with an easy-to-use interface in order to meet your businesses needs. If you are interested in Sage50 accounting software there are three products and price points you can choose from. Read more.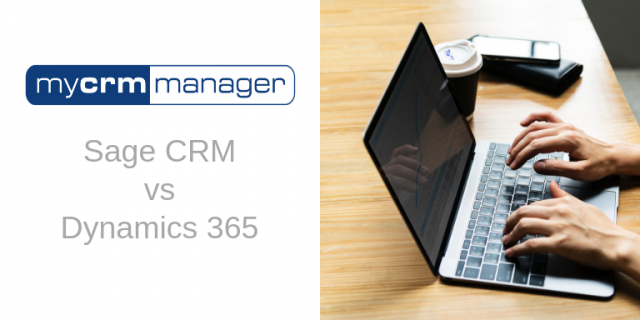 If you're trying to decide between Sage CRM vs. Dynamics 365 for your CRM software solution this blog post is for you. We often evaluate the competitors in our industry because it's important to understand key differentiators between each platform. Read more.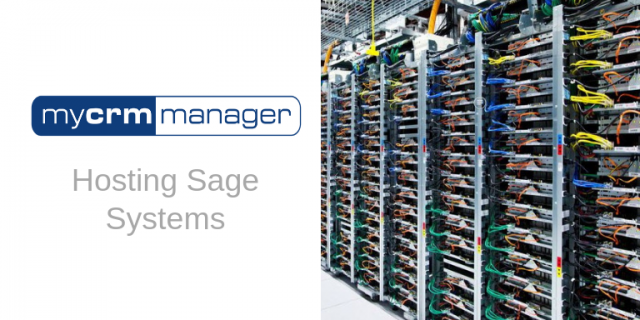 One of the distinguishing factors of Sage CRM is that, while it is a web-based application, it is hosted on a server we can directly access. This blog discusses the hardware & software requirement you need in order to host Sage CRM on a server of your choice. Read more.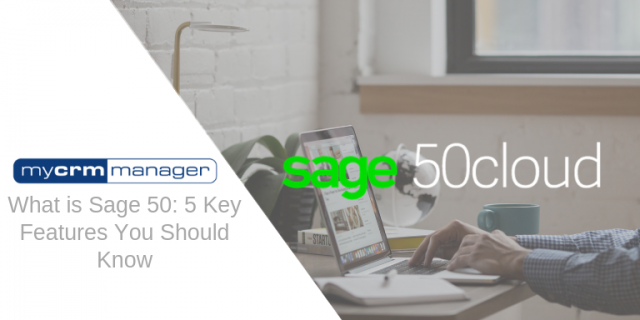 Since there are a lot of accounting solutions available to you it can be tough to know which is the right fit for you. This blog discusses the 5 key features you should know before you buy Sage 50 for your business. Read more.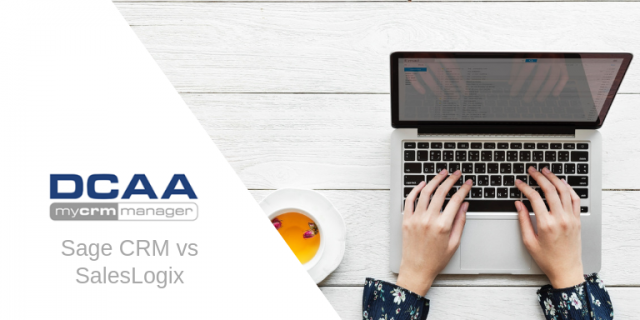 From time to time, there's a new client who tells us that, before enlisting our help, they were deciding between Sage CRM vs. SalesLogix for their CRM software solution. This doesn't surprise us because we frequently evaluate the benefits of our competitors. This way, we can understand what sets Sage CRM apart from the competition. Over the years, we've narrowed it down to these key differentiators listed in this blog. Read more.
When deciding between Sage CRM and Zoho, many customers have chosen Sage CRM for various different reasons.  Zoho is a modern, simplified CRM solution that is popular among small businesses. However, when customers chose Sage CRM over Zoho it is due to the key differentiators listed in this blog. Read more.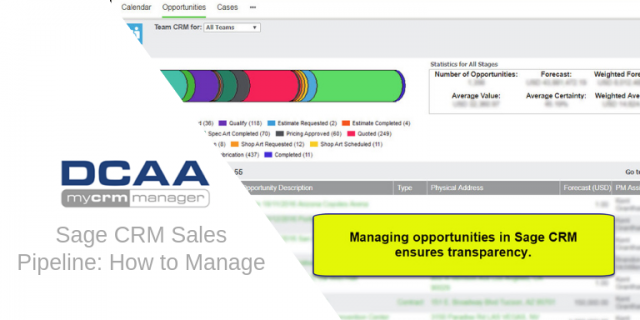 A high-functioning sales team can make-or-break your growth goals. It's nearly impossible to achieve ambitious milestones without the right people, strategy, and tools in place. For this reason, many of our clients have talked about how the Sage CRM sales pipeline has transformed their business. Read more.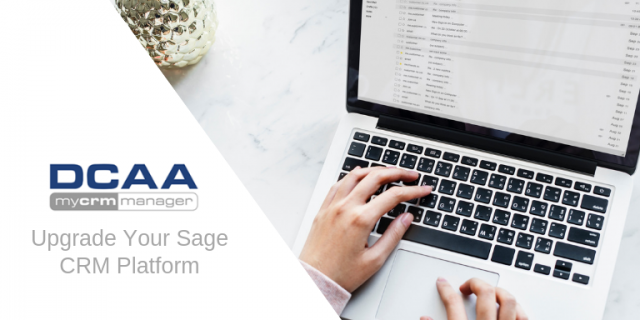 Sage routinely publishes upgrades for Sage CRM. For the past couple of years, these releases have focused on the user experience and in re-vamping Sage CRM's communications features. But really, there have been a ton of enhancements throughout the system with our new upgrades. This blog post will provide you information on our newest upgrades. Read more.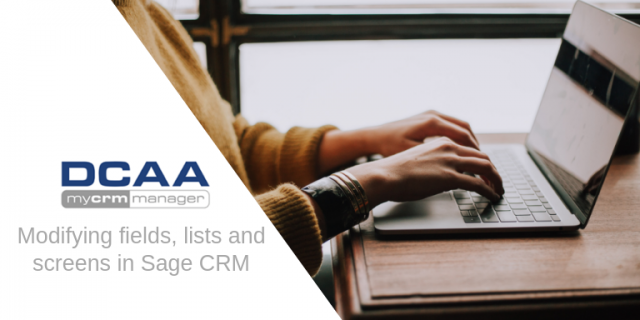 In this blog post will provide you with an overview of how we can modify how information appears within the Sage CRM system. Read more.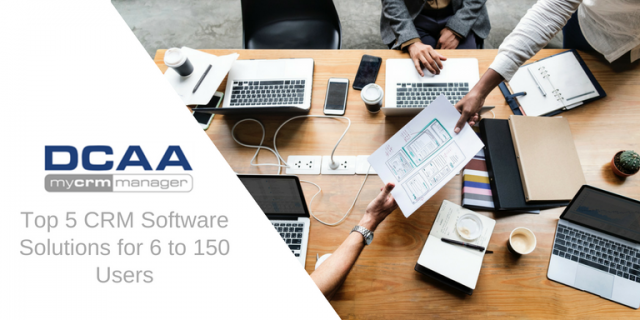 When a small business wants to empower their team to grow and thrive, they start looking for CRM software solutions. Why? Because a feature-rich CRM will give your team all the tools necessary to collect, process and analyze customer data from a variety of sources (e.g., website visits, phone calls, emails, and social media). In today's post, we're going to dive into the top five CRM software solutions for small businesses (6 to 150 users). You'll learn about their features and gain enough knowledge to deeper evaluate which particular solution will work best for your team. Read more.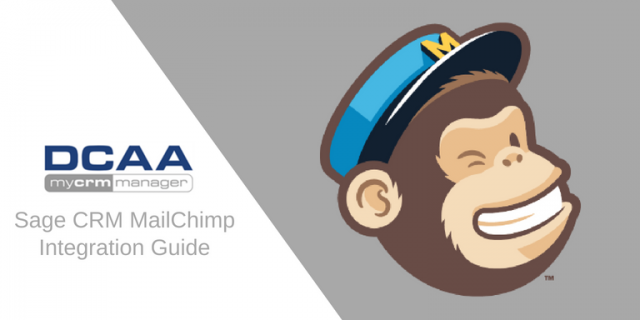 MailChimp is an email marketing solution that's integrated with Sage CRM to let you create online campaigns, send emails, and track results. Learn more about on how to integrate MailChimp with your Sage CRM account. Read more.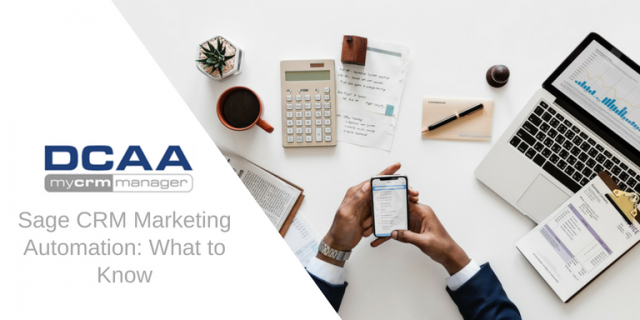 Small businesses still rely on strategic marketing automation to attract, retain and engage with customers. Finding ways to make your company efficient is the key to lower overhead, larger profit margins, and less mindless work. Sage CRM marketing automation serves as an integral key to your overall strategy… if you know how to use it. Read more.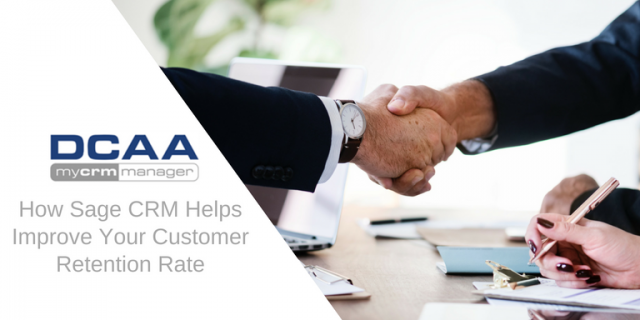 Without someone willing to pay, you don't have a business. These people who give you money are called customers. They decide whether or not your doors stay open. If you improve your customer retention rate, you're keeping customers happy for as long as possible. In this blog post, we will explain how Sage CRM helps improve your customer retention rate. Read more.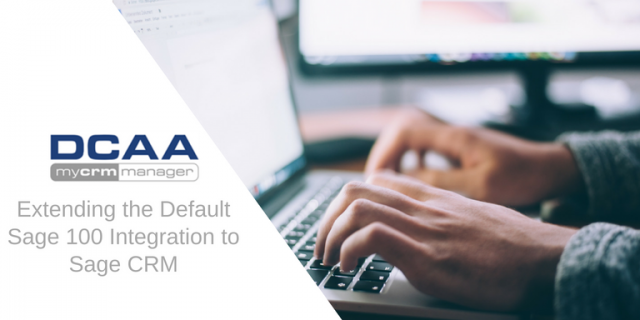 Sage 100 offers an out-of-the-box integration to Sage CRM. Effectively, this allows CRM users to launch Sage 100 screens from within Sage CRM. But be aware that we can extend the integration to do much more. Read more.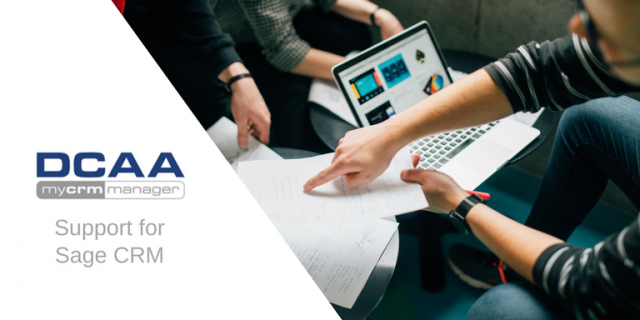 Support for your Sage CRM software can come in various forms, so let's review the options. Read more.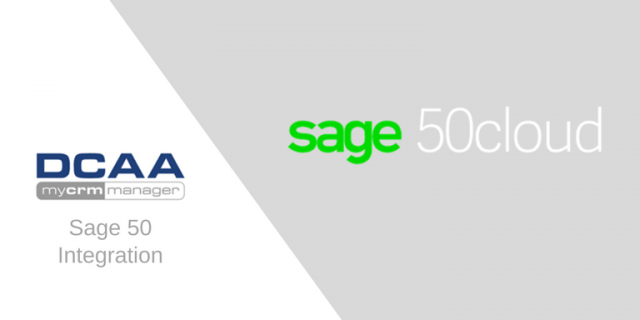 Sage 50 integrates with Sage CRM, a very practical communications system for your customer-facing staff. When we bring up a company record in Sage CRM, users can see the YTD and LYTD sales values as well as the date of the last order or invoice. CRM users can also view Order and Invoice history including the line item details for those transactions. The integration between Sage CRM and Sage 50 was created using the software developer's kits (SDKs) for both Sage CRM and Sage 50. Watch the video.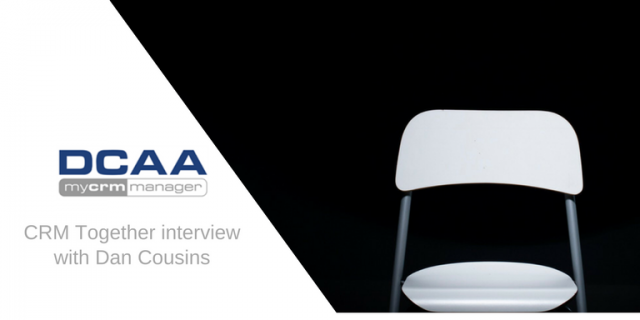 In the interview below, CRM Together invites Dan to join them for a webinar to give an inside track of how his clients use CRM Together's third-party solutions for Sage CRM on a daily basis. Watch the video.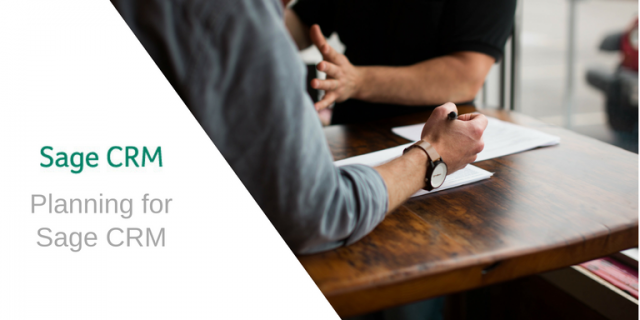 In the video embedded in this blog, we outline our approach to planning for and deploying a Sage CRM project. The video will also clarify the human resources your organization will need for your project to be successful. Watch the video.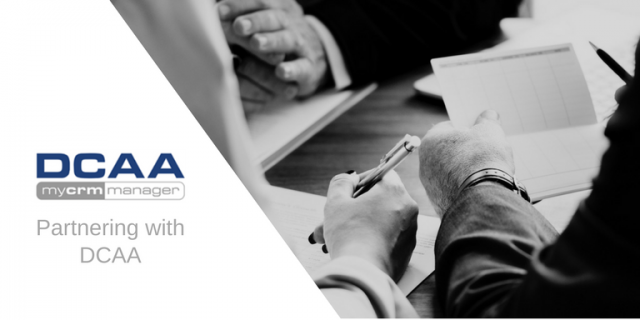 Sage CRM is a practical solution with a stable future. It might not make sense for your firm to develop an internal proficiency with Sage CRM. However, what does makes sense is to have an answer when your Sage 100 clients and prospects ask about it. Watch the video.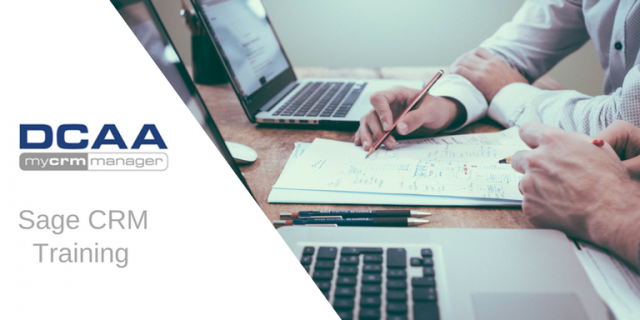 When implementing Sage CRM, there needs to be comprehensive training in order for everyone involved to grasp how the system functions. It is our responsibility to, not only design your system with you and build it out but also to provide adequate training to ensure your group receives the very best return on your investment in Sage CRM. Sage CRM training takes time, but we are happy to work with you to make sure your staff understands the platform comfortably.. Read more.
In the video embedded in this blog, we outline the options you have for Sage 100 CRM integration with Sage CRM. By connecting the 2 applications, Sage CRM users can view Sage 100 accounting data AND create orders from Sage CRM that feed into Sage 100. Watch the video.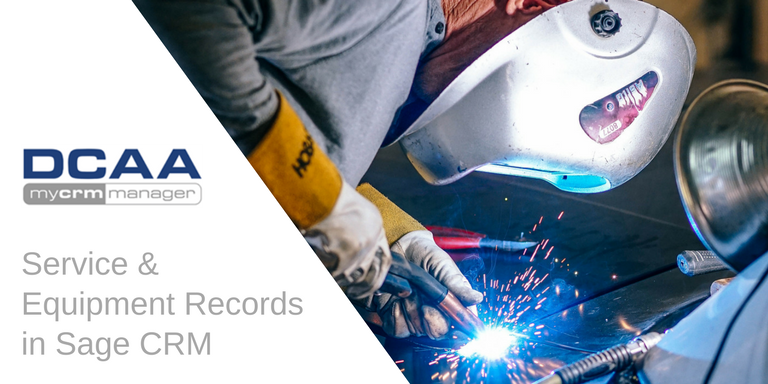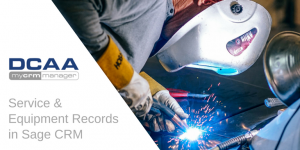 Many of the projects that we've implemented use Sage CRM to manage equipment and service records. That might not be the first thing that comes to mind when you think of what is usually tracked within a CRM system, but managing service records in Sage CRM is a surprisingly easy and flexible solution. Watch the video.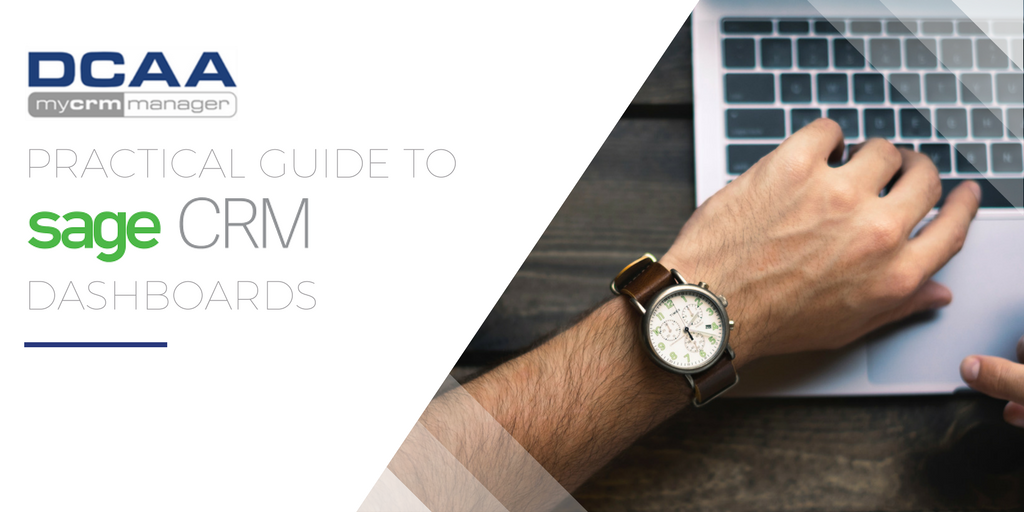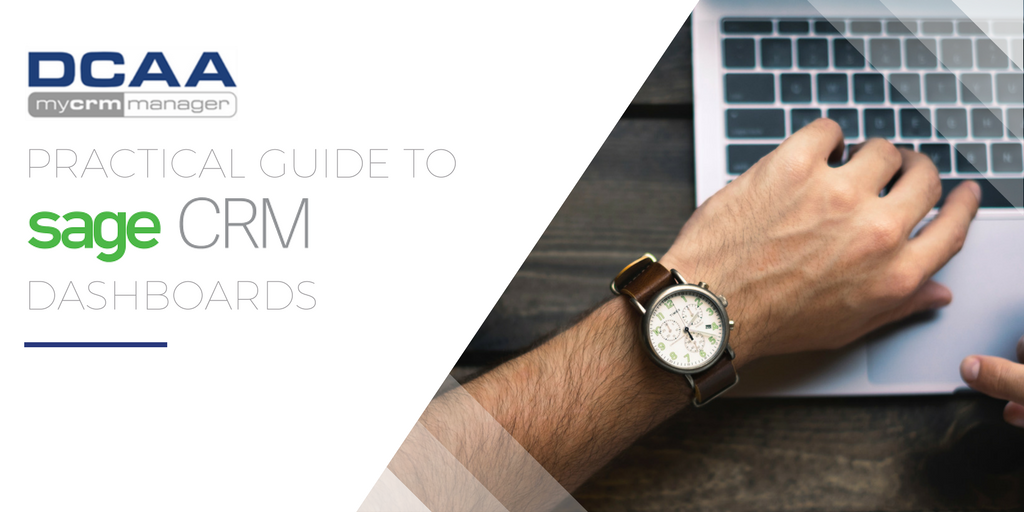 Sage CRM dashboarding allows us to compile multiple sets of results or reports onto a single screen. In this article and video, we will guide you through a use case scenario of practical dashboards. Here's our guide.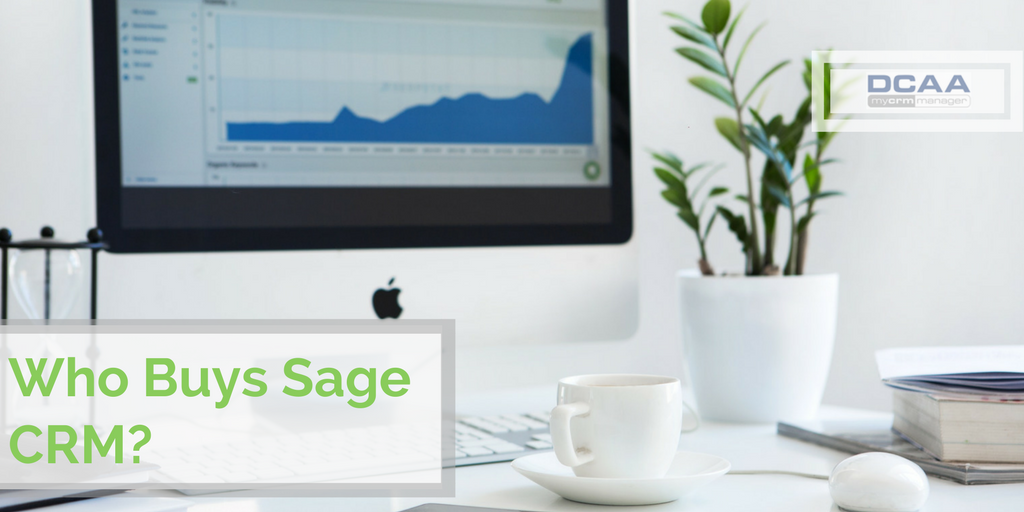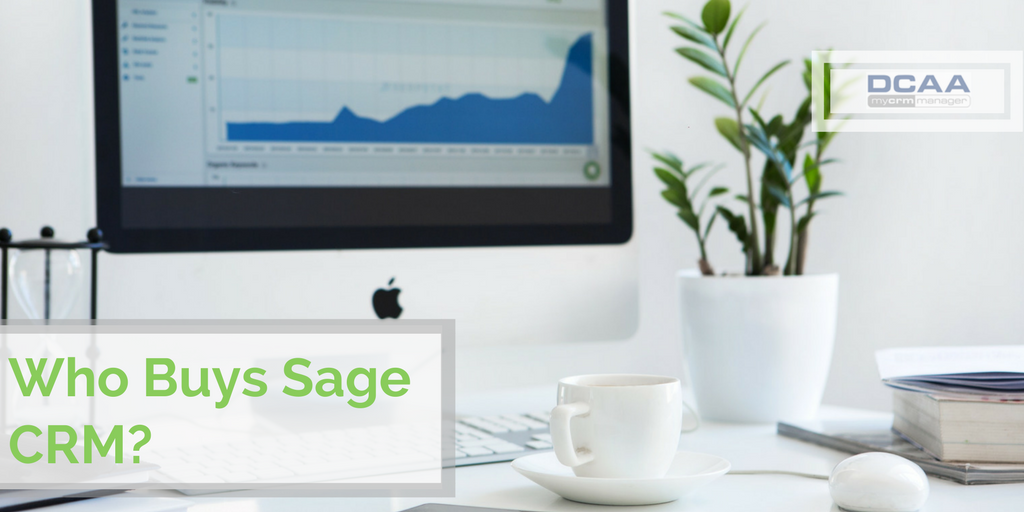 Well, It depends on how we quantify small enterprise.  Sage CRM is ideal for companies that need to streamline processes between departments or provide customer-facing staff with financial information, including the ability to create orders through the Sage CRM interface that pass through to the Sage accounting system. Read more.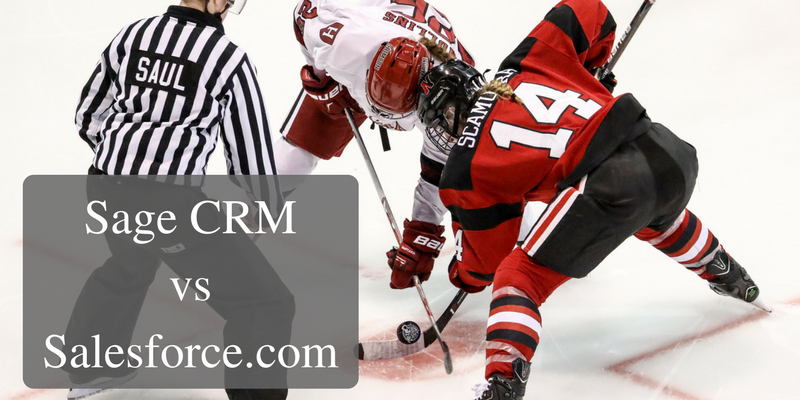 We have recently won a couple of projects from clients who were also considering Salesforce.com. Salesforce dominates the CRM industry, so why did they decide to use Sage instead? Find out inside.
Accelerator is a third-party application that radically changes the Sage CRM user experience, integrating the Sage interface directly into Outlook for ease of use. Learn more.
Looking to access your customer data directly form Sage CRM? Crystal Reports for Sage CRM allows you to do that. Learn more.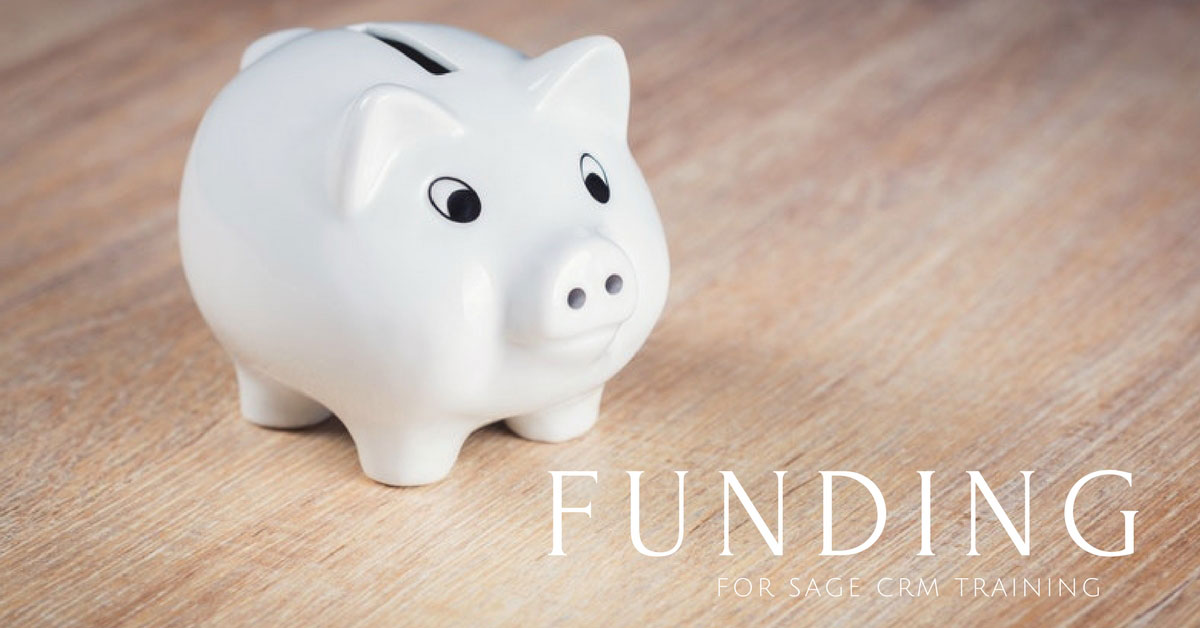 Looking for funding for Sage CRM training? Recently one of DCAA's new clients applied for the WIPSI program to help cover costs. Learn what they did, and how your growing company can too. Plus, get templates for your application. Learn more.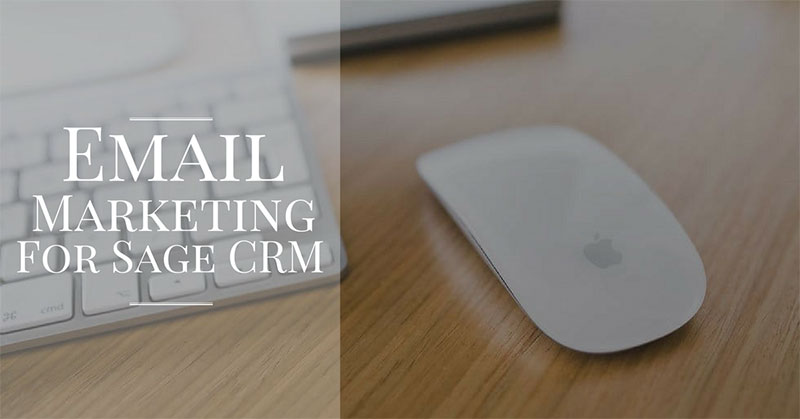 With support and a nice integration, email marketing with Sage CRM makes a lot of sense for businesses today looking to connect with more clients and customers in a cost efficient way.
Learn more about the tips and benefits about email marketing for Sage CRM with MailChimp expert and Markitors CEO, Brett Farmiloe.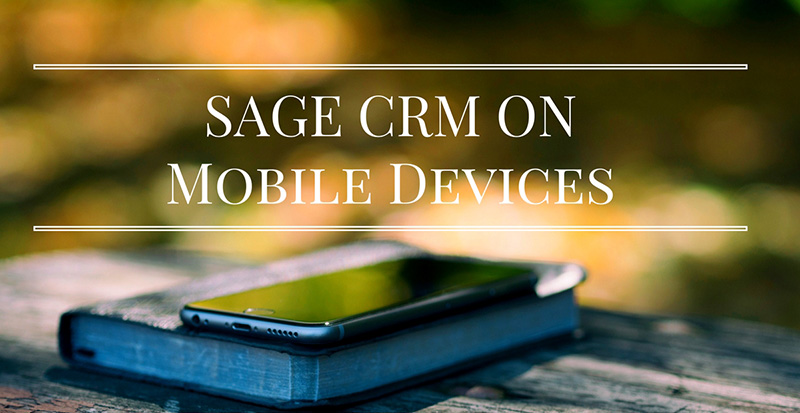 What are your options when it comes to Sage CRM on mobile devices?
Well, Sage CRM mobile device access is complicated. Let's make it less complicated by separating out your 3 Sage CRM mobile device access choices.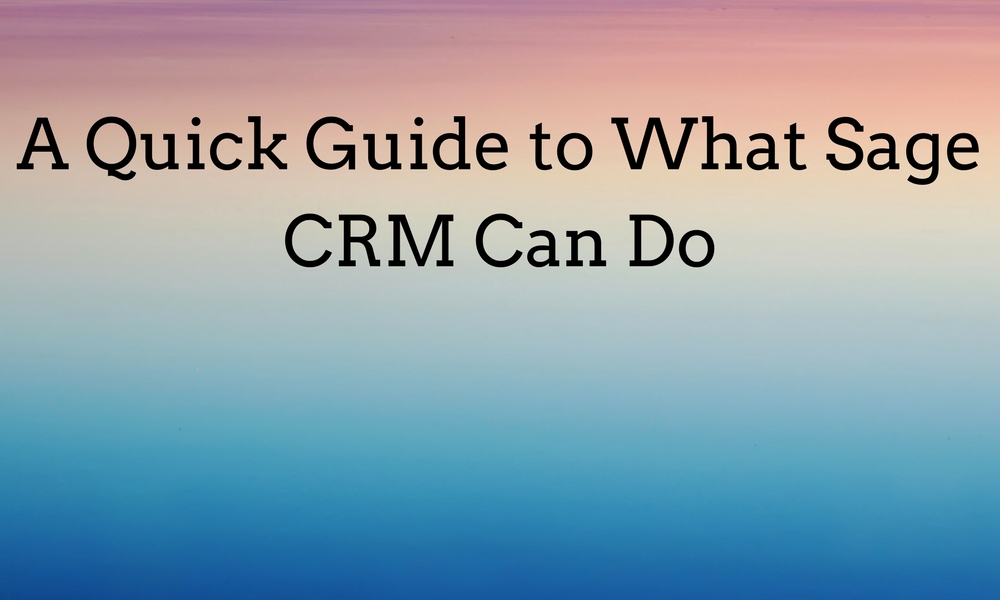 Sage CRM is a very useful tool for businesses because it's completely configurable and open-ended. Businesses can change it up however they want so it does exactly what they need it to. With all its capabilities, it's not always obvious exactly what Sage CRM can do for you.
Read more about what Sage CRM can do for your business.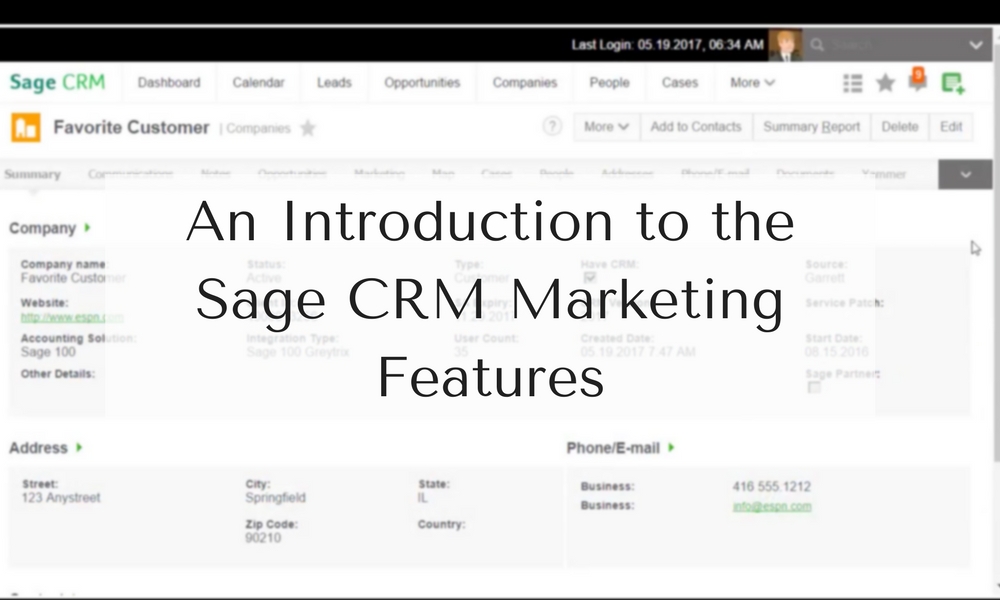 People often ask how Sage CRM can help them with their marketing efforts. While everyone has different needs when it comes to marketing their business, Sage CRM can help with a multitude of them. See how the Sage CRM marketing features can help you promote what you do.
Read more about the Sage CRM marketing features.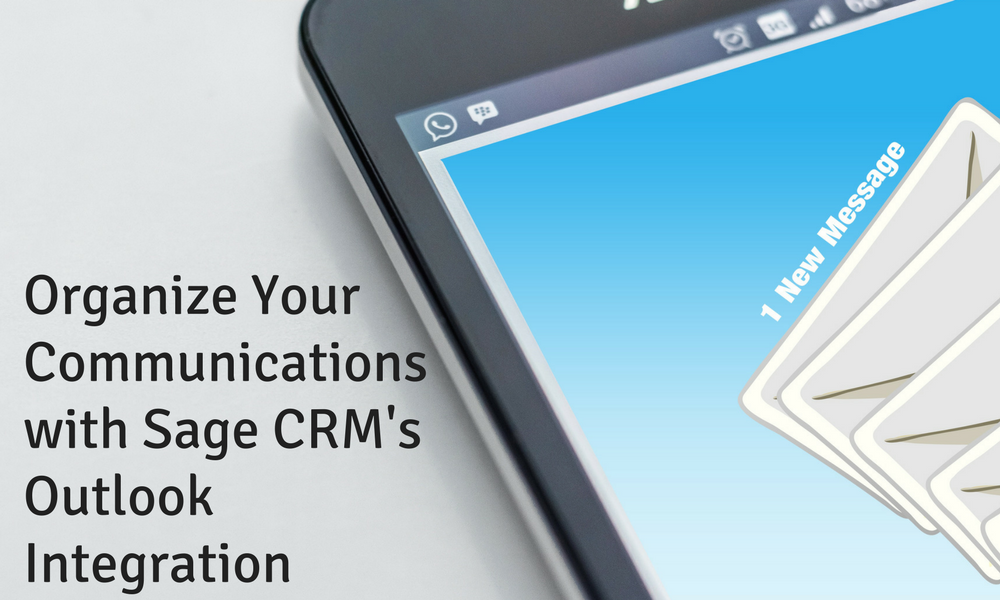 Thanks to Sage CRM's Outlook Integration, filing and finding important communications can be done quicker and easier than ever. With multiple options for how to organize emails, you can find the method that works best for you.
Learn more about how Sage CRM's Outlook Integration helps with organization.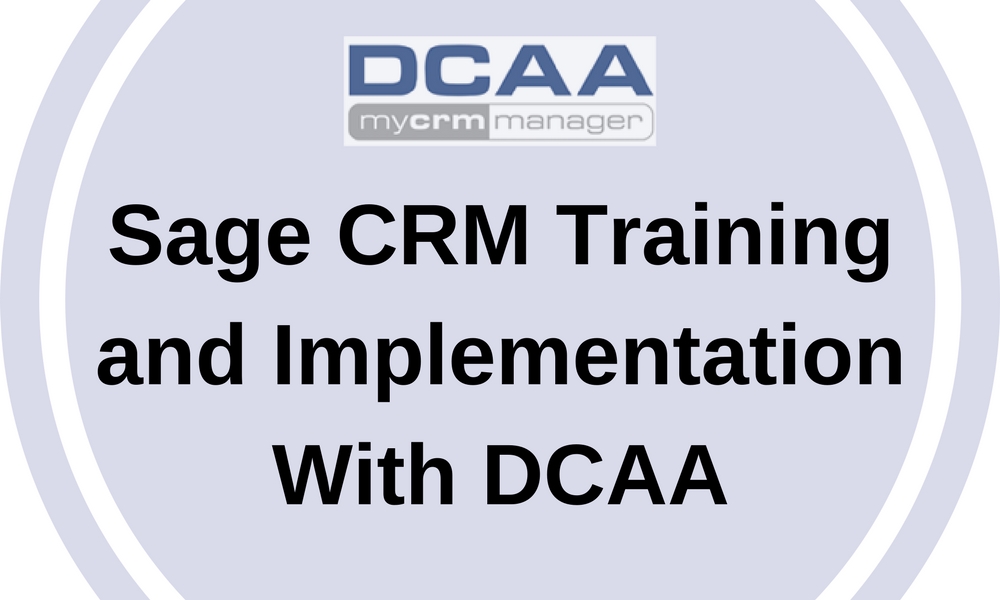 It takes time to fully understand and implement a Sage CRM system. We'll work with you every step of the way to help you design your system, build it, and train those who will be using it. Work with us when going through the process of Sage CRM training and implementation.
Learn how we will help you get started with your Sage CRM.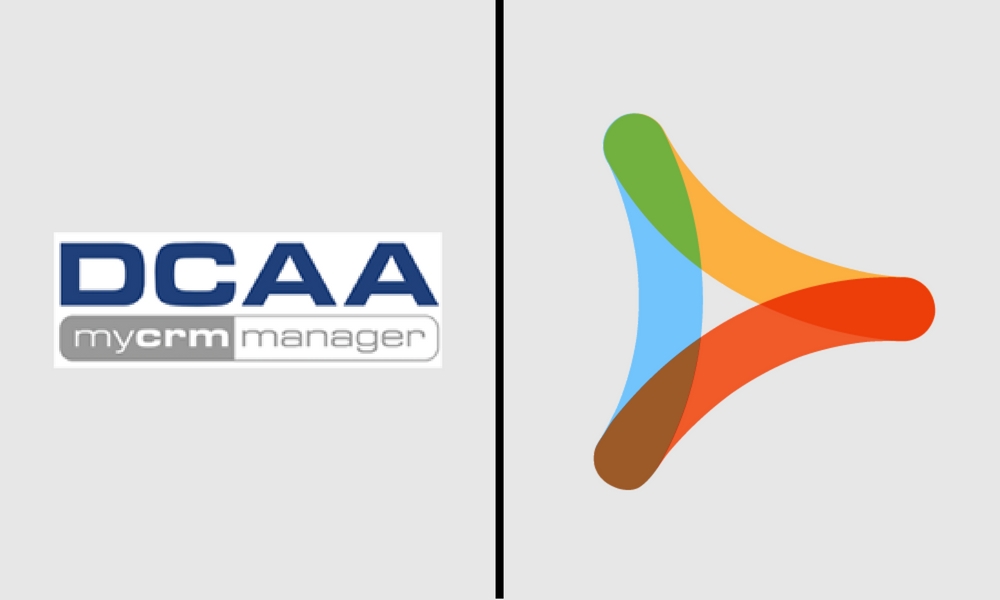 For 15 years, the Third Party Advantage Conference has showcased development partner products that work with Sage CRM and Sage 300. This year's event runs April 9-11, and DCAA will be there to chat with you and answer your questions.
Here's more on what to expect at TPAC 2017.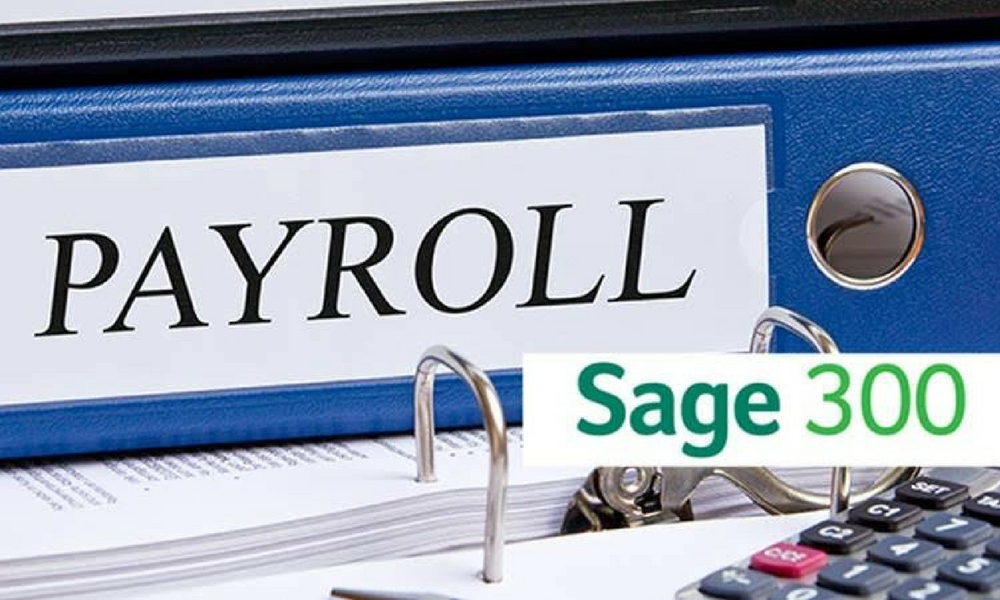 HRMS for Sage CRM will soon include a new integration with Sage 300 Payroll. It will again be a read only integration with payroll showing check history under the Employee listing in Sage CRM.
Learn more about Sage CRM's upcoming integration with Sage 300 Payroll.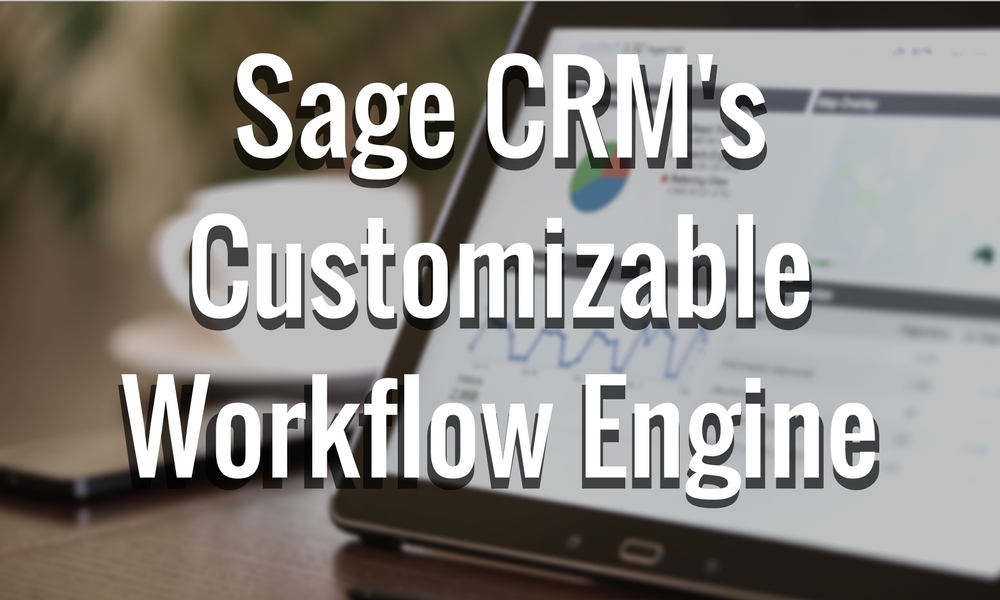 Company organization and communication is important, especially when it comes to the flow of tasks through a department or between multiple departments. You might already have a system when it comes to how things work in your company. What if bringing in a new workflow engine throws off your groove? That's not something you need to worry about with Sage CRM's Customizable Workflow Engine.
Learn more about how Sage CRM's Workflow Engine can help your business.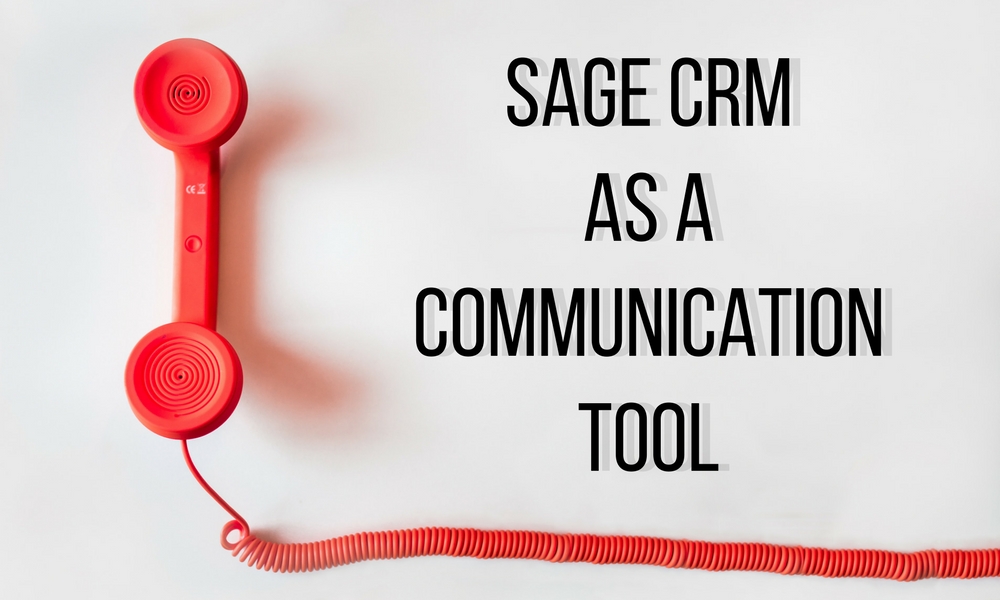 Every company is different and each has their own way of doing things. Something that can be said for each, though, is they all need a way to communicate across the different departments and levels. Using Sage CRM as a communication tool, it will be easy for staff to keep track of all of the messages and appointments that pass through each employee.
Read more about how you can use Sage CRM as a communication tool.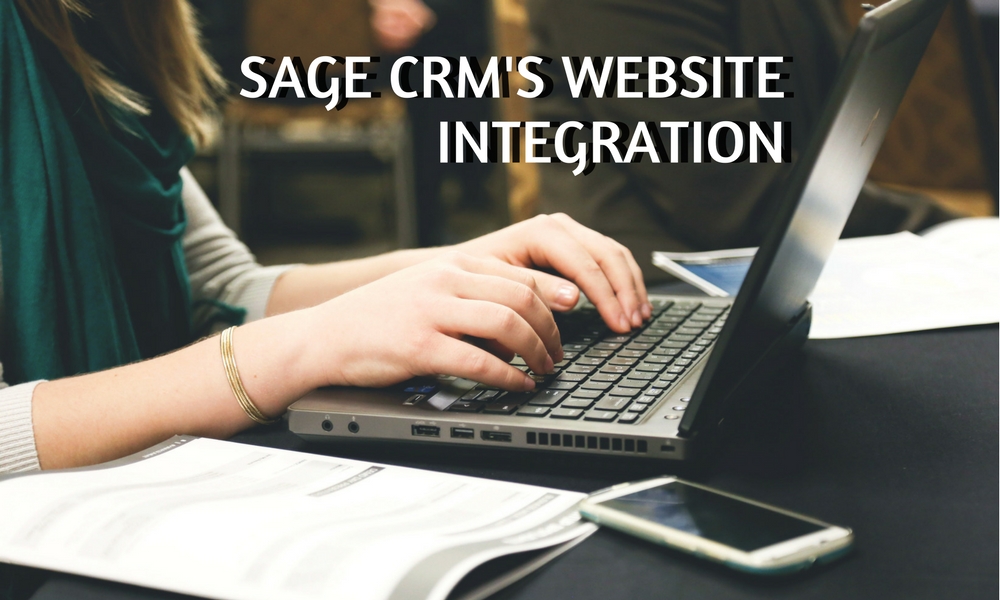 Having some sort of form on your website is common these days. Where does your form go once it's been filled out, though? Do you have a quick and easy process in the back end? Thanks to Sage CRM's Website Integration, handling inquiries behind the scenes is very practical. With this feature, you'll have all the tools necessary to make everything run smoothly for your business.
Take a closer look at Sage CRM's Website Integration.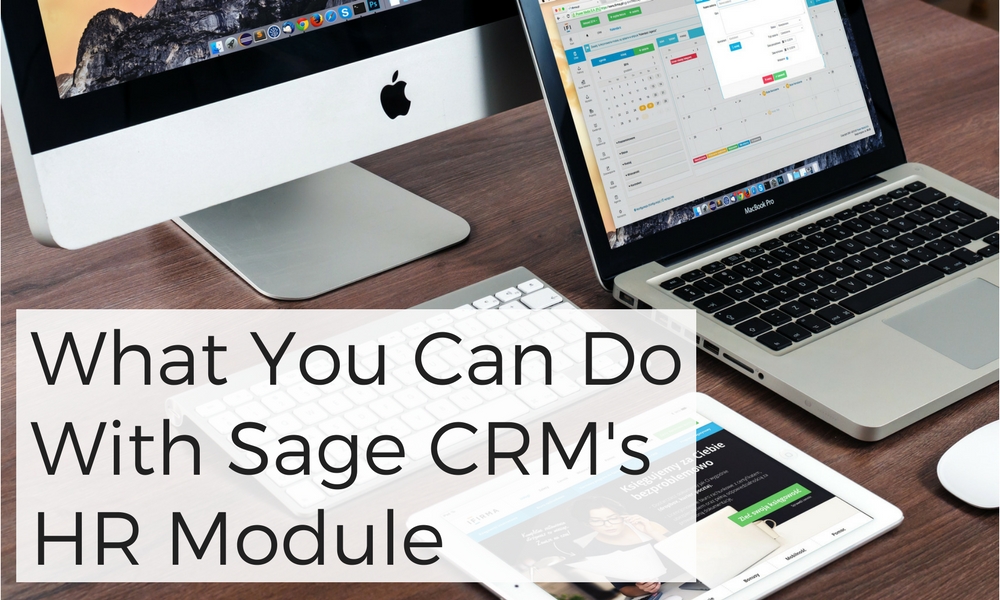 If you are looking for a way to organize your employee information, look no further than Sage CRM's Human Resources Management System, or HRMS for short. This HR Module provides a broad range of functionality that is easy to use and can be configured to fit the needs of your company. In this article, you'll learn more about what you can do with Sage CRM's HR Module.
Read More about the Sage CRM HR Module
You need a way to organize different aspects of your business, so you're considering using a CRM.  Well, meet Sage CRM, a software application that you can use to organize how information flows through your business.  To give you a little more information, we've compiled the 5 most frequently asked questions about Sage CRM.
Take a look at Sage CRM FAQs